Life of D
Tuesday, October 15, 2013
9:02 AM
This has been so long but I'd really want to talk about it. I really like the zoo, as in really like. I like the earthy smell
(no, not animals' excretion and faeces)
, the warm but still cool breeze (I think I might have chosen a relatively cooler day which is why I have no complaints about any sweltering hot weather), and most of all, the animals.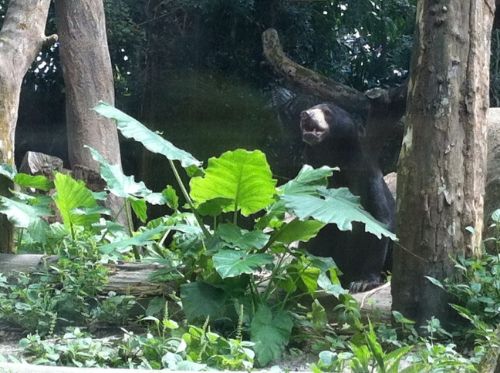 My favourite would be the sun bears even though they are too dark for my standards, but they were not entitled to choose their coat colour, were they? They are adorable and round, and they seem so cuddly that I so want to hug them. They even looked in my direction when I went to visit their enclosure several times. I think I really adore bears, particularly the large and cute ones.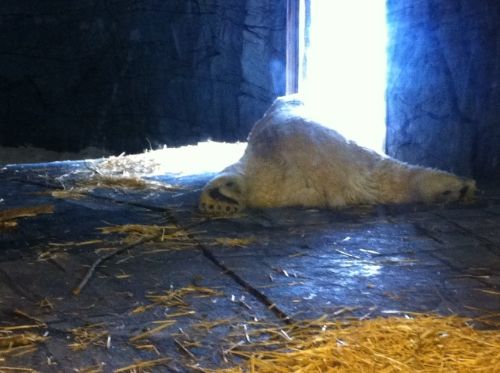 To be honest, I like the polar bear too. It has coat the colour of snow, pure and white. Sadly though, it never did give me even a slight look when I went to visit it... However, I found the heart to forgive it because it just looked so... sad. It was staring out of the small hole of its enclosure with sunlight staring down on it, seeming pensive, the space surrounding it appearing bare. The voidness made me sympathise with the giant creature and even though I don't speak bear language, it was apparent that it was lonely. I really wish they put in some tonnes of snow someday or bring in another friend so that it won't stay desolate like this forever.
I genuinely believe that animals have feelings, akin to humans, and these feelings are not any less insignificant than our feelings
.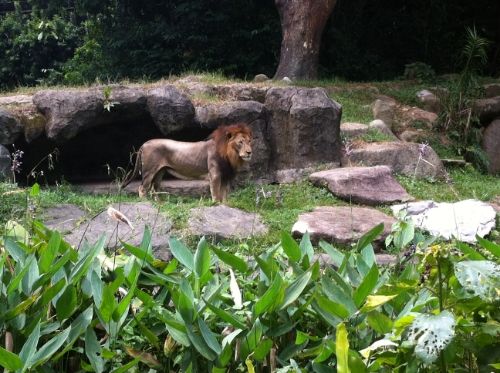 I've also taken a peculiar liking to the carnivores, surprisingly, and in this case, they are the lions. Caged lions appear to be less majestic in size and they rarely ever roar, in contrast to those in the wild. Their senses seem to be less sharp though they seem to have a built-in body clock which tells them exactly when their feeding times are.
I do not know if they know this by the patterns of the sky or the sun, but it is this instinct of theirs that caught my eyes
. Intriguing, indeed.
The white tiger, another great predator in the natural environment, had a famished look on the day of my visit. But I've been told that it looks hungry every single day. Anxiety filled me when I was standing opposite the white tiger family. I was worried as there weren't any barriers except for a rather large space in between the viewing spot and their enclosure. I fear that one day, one fateful day, it might just summon enough courage and energy to leap across and devour humans. That, I hope, is just part of my paranoia that led me into conjuring up this frightening scene.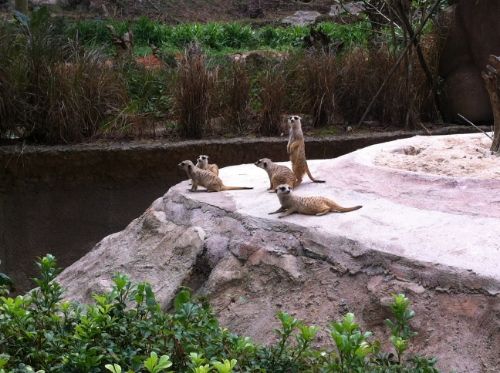 Another bunch of enchanting creatures I met is the meerkat family. I've read the "Life of Pi" and I was horribly upset when the tiger actually just swallowed these little cuties up. (The Life of Pi is indeed an exotic story, though there are some segments that made my reading hard due to the overly vivid yet apt description of the savage tiger.)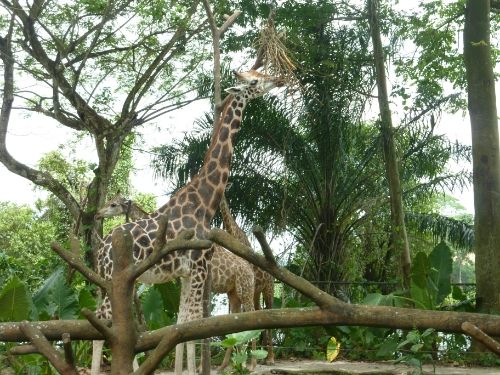 I can't forget the herbivores too, can I? I've found fondness for the giraffes. I think that they are really massive, especially in the vertical direction. I think they are adorable and their sleeping posture is hilarious.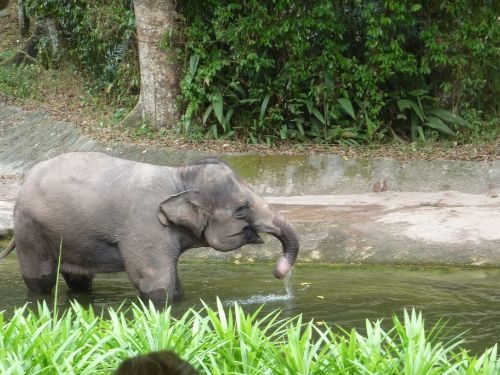 Even though I missed many animals show due to my relatively late arrival, I managed to catch one, which happened to be 'Elephants @ Play' or something like that. I have not many comments on that except that I feel quite righteous and I'd like to say that it's not justified to train animals for humans' pleasure. It is similar to forcing them to do things against nature and that is something which I do not agree with. Interestingly though, the elephants appeared to be quite delighted that day so I shall suppress my 'animal activist' self for now.
The
"Life of D"
ends here because yours truly is just plain lazy.
Labels: photography