我们都傻
Saturday, January 28, 2012
10:22 AM

Whyy?
Why do humans make promises which they can't keep?
Why do we only listen to the words which we want to hear?
Why do i have to pretend?

This week has been horrible since reunion dinner. I ate less than what I would normally eat on the day of our reunion dinner. Then the next thing I knew was that I had a terrible headache. Before I knew it, I was down with high fever of 39.1 degrees Celsius. This was when I knew I had to bid goodbye to my CNY. Didn't manage to go anywhere to bai nian. Stayed at home to recover but my fever was unstable, coming and going anytime it liked. I was annoyed, and helpless. Went back to school anyway on Wednesday and didn't skip any of the days this week. Visited the doctor on Thursday. He came to a conclusion that I had bacteria infection. Undoubtedly so. I didn't go for guides yesterday and went home. Being sick is tiring. Ended up sleeping when I reached home. Woke up this morning feeling infinitely much better. Perhaps the stronger antibiotics prescribed for me are finally working well.
Thanks to everyone who showed concern to me during this period! It makes me feel blessed and I really appreciate it. (:
Labels: sick
what makes you beautiful
Saturday, January 21, 2012
9:04 AM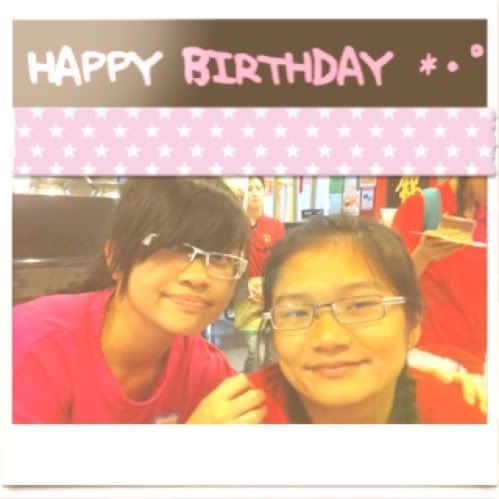 Had a pretty good time yesterday! After CNY celebration,
Eunice
and me rushed to buy the cake @ JP. I fooled
Wenxin
into believing that I wasn't going for the outing anymore hehehe. :3 All I did was acting innocent. Seems like a fool-proof plan. :) We had this meant-to-be-a-surprise birthday celebration for Wenxin but apparently, she seems to already know it because we were constantly making obvious gestures and our collection of money wasn't discreet enough. BUT STILL, hope you like what we planned for you!
HAPPY EARLY BIRTHDAY WENXIN ♥
Then after, we lao-ed yu sheng HAHAHAH. I still remember doing this with all of them last year. It was epic and fun! HAHAHA (: Didn't know what to say so I said
"快快乐乐"
since it was the best I could think of right then.
Good times~

Nowadays, I'm watching a drama called "Scarlet Heart". I'm watching it only because it's airing on the TV on every weekday. It's a drama starring Kevin Cheng and Liu Shi Shi and some other princes. I basically know what the story is all about because of some research on wikepedia and BECAUSE DAD KEEPS GIVING ME SPOILERS LMAO. I'm looking forward to a tragic ending hehe. Okay that sounds sick and sadistic but isn't it true that love stories with sad endings leave you with a deeper impression than love stories with perfect sweet endings, right?


Anyway, I stained my skirt, 202 shirt and even shoes with black ink from calligraphy session yesterday. IT WAS AN UNEXPECTED ACCIDENT. Inevitable and it totally took me by surprise. I'm glad that Mum didn't hold it against me too much though.
HOW?!
I don't want to wear shoes with black spots to school... :( Hope we can wash it off...
Labels: dramas, outings, photography
till the end
Saturday, January 14, 2012
8:42 AM
Was away for camp the past 2 days +. I'm not going to elaborate but camp is basically workshops and stuffs. It's a bit boring. Anyway, we had a night walk on Thursday! Started walking from 10+ pm all the way to 4+ pm. So it was Friday the 13th already HAHAHA. Didn't feel like I was there. It felt more like I was sleep-walking instead (or zombie-walking, in this case), except for the fact that I could feel pain in every step which I took. It was a long and arduous journey, with occasional breaks which were rare. Our whole journey included walking all the way from
Habourfront Station to Telok Blangah Hill Park to Henderson Waves to Hot Park to Science Park to NUS back to school
. Anyway when we were passing by NUS, we heard an announcement indicating that there was an emergency. Then we spotted smoke billowing out of the building. After walking further, we saw that one of the labs was on fire. It was a pretty scary and astonishing scene. That was my first time seeing a real fire real life. I don't know what happened next but I heard some teachers mentioned about calling the fire defence. Perhaps they really did? Was glad to reach school even if my legs were all wobbly.
Felt totally proud of myself for completing the walk!
Bathed and I think it was about 5am in the morning at that time. Most of us just laid on the table and slept. I think I really managed to catch some rest but all I could remember was how cold it was, considering the fact that the air-cons were on and I didn't have anything to cover myself. By the next morning, I was still freezing and it was terrible keeping myself awake. It felt as though my soul had drifted out from my body.
Anyway, the main highlight of the camp was, of course,
FINE DINING
! Took quite a number of photos but most of which were taken with other people's cameras. I only took a few with my phone.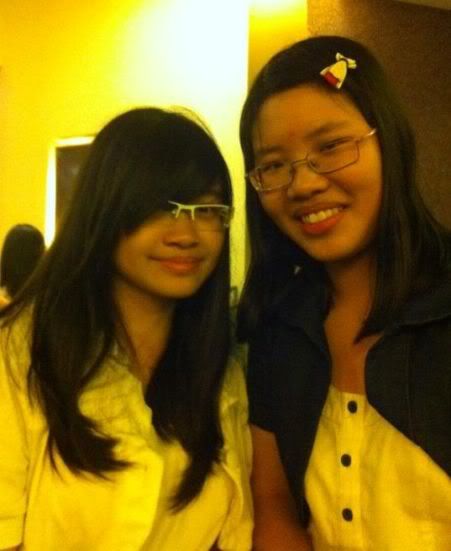 Eunice & Me!
Changlyn & Me!
Labels: camp, photography
Lovey Dovey
Tuesday, January 10, 2012
5:06 PM
Haven't been posting lately. Oops sorry to anyone who reads my blog. School has officially started and there's absolutely no time for me to update my blog! Everything is practically back to normal, in one way or another. Received my O'levels Chinese results yesterday. I scored an A1 and a distinction for oral. Was totally nervous because I was worried that I might do badly... But all went well.
*phew*
Congrats to
Ziyan
too and even though I know you won't read this, but cheer up,
Rachel
.
Jerry
, it'll be your turn soon, right? 화이팅!!! ♥
Going for a camp tomorrow, probably the last camp of my whole secondary life. The unique thing about this camp is that we get to go back home tomorrow but will be staying over on Thursday. No, we aren't going to sleep. Only 2 hours! There's a night walk scheduled from 12 midnight to 5am in the morning. Trust me, I'll be ZOMBIE-WALKING.
This is what I'm going to wear for fine dining. Hopefully, it isn't too casual. I'm a bit worried though...
And woohoo, SHOES!!! Basically, they are just flats.
Oh and anyway, won something from
teenage
! Justin bieber's notebook + poster + calendar! Haven't exactly plan when I'm going to retrieve my gifts though. Probably next Monday since it's a half day because my school did well for O's levels! :)
Created this gif with my phone because I was bored HAHAHA. iphone is sooo cool. :P OKAY SO IT'S COPYRIGHTED TO ME YAY.
Labels: camp, gif, photography