The walls we crashed through
Sunday, January 30, 2011
12:29 PM
Sunday!
Reminds me of something I saw on twitter yesterday.
Monday - Friday = Super long. Friday - Monday = Super short.
So true lol! I feel like apologizing for spamming all those emo tweets on twitter to no one in particular, only myself and maybe my followers too.
I've tried to be happy...
Spent my time studying for Chemistry test yesterday and played
Plants Vs Zombies
in the night. I've reached lvl 5-1 already ZOMG I'm so happy! But it's getting really difficult I'm so pissed off by the zombies who always, (I mean it), eat up all the special plants which I'm saving my points for. T.T how sad is that? CNY is coming soon and OMG 202 class outing on Tueday! Woohoo! <3 I'm looking forward to it because I miss 202 really much. :( Studying
Social Studies
today because there's a test tomorrow. Bless me, gawd. My mind's exploding from all the facts which I've memorised. Taking a break now and maybe doing another last revision later, I think. I'm so glad that I took
Geography
plus the triple sciences combination because i think I can die if I were to study
History
woohoo.
By the way, all the
ELFS
should have enjoyed SS3 in Singapore yesterday. Heard that Yesung and Kyuhyun got injured because some crazy fans threw things at them(?) Take care though and don't get into anymore care accidents. Love SG, :)
Labels: chinese new year
Into the New World
Friday, January 28, 2011
8:37 PM

(via Weheartit)
So many things that happened this week. Went home at about 7.30pm from Guides. It's the latest day for my Cca that we went home. Met the Secs 1 today and ate Janice's Ben & Jerry's Cookies and Cream Ice Cream, Jasmine's pasta, Yulin's hotdog, Jamie's potato Chips and my 3 bottles of Pokka Milk Tea. I think we got the best food!
DOVE FTW!
Footdrills after that and we were all super high and enthu!
Sec 3s FTW!
Discussed about the Total Defence Skit thing then went home with
ZH
. Had a great time talking our H2H convo!:) I feel so much better even though, IRFMYSM. Decode this hahaha. Have SS test and Chem test to study for next week. Feel so freaking tired to even start on homework. As always, I love 202'10 for everything!:) and
WX
, get well soon plus I know you love my POOH BEAR hahaha! XD
There's a limit, my dear, to which you haven't quite grasp the meaning yet.
freaking out nowadays, because of some really weird people. XOXO, not saying.
Labels: girl guides, random
SHINee world
Sunday, January 23, 2011
9:09 AM

SHINee's interview with 10Asia
In May 2008, we witnessed the debut of a new boy band named SHINee. Two and a half years later, after demonstrating their abilities through two full albums and three mini albums, the boys held their first concert. "SHINee World" took place at Seoul's Olympic Park Stadium on January 1, 2011.

SHINee's youngest member Taemin, only a ninth grader during the release of their debut song "Replay", stated that their first concert marked the conclusion of his teenage years. To reflect upon their growth as artists, the boys held a press conference on January 2, the second day of their concert:

10A: How does it feel to get to hold your own concert for the first time? Did you prepare anything extra?
Jonghyun: During practice, I was excited that I'd get to perform so many songs on such a big stage and I was happy that it seemed like we had improved by gaining a lot of experience. It feels absolutely great to begin the New Year with our fans and it feels like we'll do well in the year 2011 too.
Key: I was worried about how to do a good job of repackaging our title songs for the concert but we've managed to create some fun and interesting performances so I think that'll be the charm to our concert.

10A: How would you score your first series of the concert you held yesterday, the first day of the New Year?
Jonghyun: Since it's our first concert, it feels like we could've done more.
Key: If I look back at each and every moment of yesterday's concert, I find that nothing was satisfactory and there is only much to feel regretful of. I think I'll have to make up for it today by trying really hard. To score ourselves...
Onew: My score is... (Laughs)
Minho: What is it?
Onew: About 30 points...
Jonghyun: Out of what?
Onew: About 300 points?
Jonghyun: The lower we score ourselves, the more we'll work harder to improve through experience so we'll try to put on a better performance today than we did yesterday. (Laughs)

10A: You're known for crying every time you perform at concerts. Who would you say cries the most?
Jonghyun: But we've only held a concert once!
Minho: There is one cry baby in our team.
Key: I am usually the first to shed tears in concert…
Jonghyun: Key and Onew are just too sentimental…
Minho: (to Jonghyun) Wait, how dare you try to sneak out of it? (laugh)
Jonghyun: We'd been preparing for and dreaming of this concert for so long that I think we all became increasingly emotional as the end drew near and we ended up crying because we felt grateful toward our fans and staff members. (Laughs)
Onew: I hope you don't make too much of a fuss over us having cried so hard.

10A: Did any incidents occur while preparing for this concert?
Jonghyun: This isn't exactly what you'd call an 'incident' but we had to go to three year-end award ceremonies in a row so we had to work till very late and then rehearse for our concert till nine o'clock in the morning.
Key: We greeted the New Year at the venue for our concert. (Laughs)
Onew: It was like we became early birds with the coming of the New Year. (Laughs)

10A: Your recent concert in Japan also ended a success, but it seems language will be important to your future activities in Japan. How is studying Japanese coming and who's the best?
Jonghyun: Everybody started taking Japanese lessons at the same time and we usually study about Japanese culture through dramas or animations. And Key seems to excel at Japanese. He's really good.
Minho: He's gifted.
Key: (in Japanese) Everyone, we are delighted to have you all here. Thank you for coming to our concert.

10A: Key, you seem to have grown a lot taller during the past few months despite your busy schedule. What's your secret?
Onew: He had a hard time having to grow while leading a busy schedule. (Laughs)
Key: I had stayed the same height for about a year and a half after I debuted but I've been hearing that a lot these days. I don't know what I did, I guess it's just time to.
Jonghyun: Seriously, what's the secret?
Key: Maybe because I eat a lot? Or eat well? It may also do with my staying in a good mood all the time.

10A: Onew sang opera Turandot's "Nessun Dorma" for his individual performance at the concert which was quite an unusual selection. Why did you choose that song? It must have been quite different from practicing SHINee's songs.
Onew: I chose that song with the hope that it will touch people's hearts greatly but practicing it was really tough. And although I four or five lessons, I went into a brief slump because I was doubtful of being able to pull it off. But I pushed ahead, thinking that I want to impress people and believing that I'd be able to move them if I sang it with my heart.

10A: Minho, how is it performing with Simon D from Supreme Team for your individual performance and you Key, with Krystal from f(x)?
Minho: I performed alone yesterday but I'm performing with Simon D. today. I was looking for a way to encourage the audience to become one with me the stage and to make my performance even more enjoyable so I decided to have Simon D. perform with me. I hope you enjoy today's performance.
Key: Having decided to sing 3OH!3's "My First Kiss," I thought it would be a good idea to have a female performer join me. So I began to think of the person who would be perfect at pushing me away for the performance when I thought up Krystal. She did an excellent job as expected.

10A: Taemin, you're the youngest member of the group set to turn 18 this year. How do you feel?
Taemin: This will be my last year as a teenager. In the past I think people took my age into consideration when complimenting me for my performance but since that will no longer be the case, I will have to work even harder once I become a real adult.

10A: Your biggest strength is known to be dancing but you'll be singing "Romeo+Juliette" all by yourself this time. It seems like you have been going through vocal training.
Taemin: Frankly speaking, I hadn't been that great in singing ever since my debut so the task got me motivated as a challenge to do more. I began practicing and because it seemed like I was improving, I've been pressing myself to keep up with it since then.
Onew: Taemin practices singing in the company even after finishing his schedule at dawn. He is really a hard-working guy so the rest of us want to learn from him in that aspect.

10A: I think having performed in front of over 10,000 fans for your latest concert must have helped you realize a new sense of confidence and maturity from within yourselves. What will your goals be for the New Year?
Jonghyun: I don't think the number of audience and size of the stage matters. We'll keep working hard to show good performances.
Minho: As it is our goal to improve and show more character with the hope of becoming more familiar with the audience, we will reflect the experience we gain on this big stage on the New Year in our future performances.
Onew: I would like for there to be many chances for us to be with our fans like concerts. Furthermore our Japanese debut is set for March so we'll be actively promoting ourselves in Japan around that time as well. In the meantime, Korean fans, please listen to our music a lot so that you don't get too lonely. (Laughs) We'll keep up the good performance.

What did you think of the interview? Did you learn more about SHINee through it?


SHINee holds press conference before second running of "SHINee World"
After successfully kicking off their first concert in Korea, SHINee returned for part two on January 2nd for "SHINee World."

The group held a press conference before the concert began, and greeted the press by stating, "Being able to perform so many songs on such a big stage is exciting. We feel that we'll be able to show how much we've improved."

Jonghyun continued, "I don't believe that the audience number is all that important for any stage. Whether there's one audience member or ten thousand, we'll be doing our best for the concert."

Minho, who was asked what his resolutions for the new year were, answered, "We had a lot of achievements in 2010, and we'll be working even harder this year with our own unique color to show everyone our improvements. My goal is to become friendlier with our fans."

Taemin responded, "I was young so I always heard people say that I was just good, but now that I'll soon become an adult, I need to work harder. Honestly, when we first debuted, I wasn't that great at singing so I did get a bit greedier with this concert."

Regarding Taemin's statement, Onew further explained, "Taemin would go rehearse as soon as our schedules were finished in the morning. He's always working so hard, and even though he's the maknae, I'd like to learn from him."

When asked what kind of help they received from their labelmates, SHINee answered, "SNSD, TVXQ, and the Super Junior seniors all came to support us and told us to 'enjoy the stage with our fans.' They were of great help to us and gave us a lot of advice as well."

Key added, "I always participated on our senior's stages for featuring parts, such as with Jessica and TVXQ; I've always declared that I wanted to hold my own concert some day. They would reply that I should watch and learn since we'll be holding our own someday. It was really helpful."

The group was also asked to comment on their successful concerts in Taiwan and Japan. "We believe that we earned our popularity in Japan due to the roads our seniors had paved," they responded.

Jonghyun added, "We never thought that 12,000 people would attend, so we're very thankful. Through their interest in us, we hope to raise awareness about Korean culture. Before we left for Japan, we were tutored on Japan's culture and language through dramas and animations. Key in particular is picking up the language fast."

Key was later asked why he chose f(x)'s Krystal for his solo duet stage, to which he replied, "I needed a female role in my solo stage, so I began to wonder who would push me away coldly when I went up to her. I figured that Krystal would fit that role, and she was great."

SHINee already completed their concert's first day and were asked if they had any disappointments. Key answered, "The more I think about it, the more I'm not satisfied with everything. All I'm left with is disappointment." Onew, who was asked to grade their concert performance, replied, "About 30 points out 300 points."

Despite Onew's score, the concert featured high-paced action cuts with aerial performances, moving cars, a 15-member orchestra, lasers, a fountain show, and other large-scale additions to their performances.


SOURCES: OSEN, Star News via Nate, Allkpop

(
read more
)
credits to :
theshiningworld
/
theshiningworld
Labels: interviews, SHINee
So if i fall apart, who will save me?
7:15 AM
Yesterday was a hectic day. Woke up at 6am in the morning and met up with
ZH
at the mrt station and we rushed to school together because we were running late for
GG CIP WORK
. Went to Clementi Avenue 2 to look for a block somewhere and then saw all the other guides from different school gathered there. In the end, we split into 2 groups, 5 on each team and we proceed with our cleaning day. We wiped the walls, washed the toliet and even painted the door frame for the old lady. The paint was seriously irritating! It kept sticking on to me and it's hard to wash the stains off. .___.
ZH
had to left halfway through because she got a fever and i feel guilty because i think it was I who passed on the disease to her.
Sorry. ):
Went to JP and kept looking around for something
(*hinthint*)
and then finally bought it. Reached home and did my homework in the afternoon. Played
Plants VS Zoombies
at night and had a really awesome twitter chat with
@faythele & @ragingthoughts
. Love ya guys :P
My cough is seriously, getting worse. I hope i get well soon. :/
ANYWAY, HAPPY BIRTHDAY WENXIN YESTERDAY! Love ya! Pasar Malam auntie and i'm awesome, you know it. Let's go swing and fly kite soon, kk? :D
Labels: girl guides, happy birthday, photography, random
20th High1 Seoul Music Awards
Friday, January 21, 2011
6:45 PM



I miss them and omg Taeminnie's hair. *___* And Onew's hair! They make my heart melts i wanna touch them. And of them look so hot here. Awww. But there's no Jjong because he's in hospital. Get well soon, Jonghyun oppa! I love Key's outfit too hahaha. Minho is, as usual, flaming charisma. :P I miss all of them sooo much and this is a remix of Lucifer cos' not all of them are here. And see b2st singing along to their song hehehe!



And booyeah here's our biggest winner for last night! SO NYUH SHI DAE, FOREVER~ Daesang, bonsang, and popularity award. Aren't you girls just, awesome? I love you'll! SONES~ ♥

Visual dreams
Thursday, January 20, 2011
5:15 PM
SNSD released a new song! Visual dreams!
Only listened to it for a few times because nowadays I had been really busy. :/ SNSD HWAITING!
Anyway, today met up with
ZH
and we went for our
GG footdrills training
which started today. Man we were late because we purposely took our time and walked to school but oh well, did 40 pumpings for that anyway. I was sick for this week! When I came back from camp, my throat was sore plus I kept walking in the rain for days, thus I got a fever! And I was given a 2 days MC for it but I went back to school on Tueday. So tired damn. And I just had physics test today. It was hard. :( I think I gotta buck up and pull my socks, or I'll be the one who's dying next. Anyway, Chinese New Year is coming soon! I'm so excited!:)
Hahaha anyway, my parents are really nice to me these few days, prolly because I am sick and that incident, because most of the things that I want they will allow me to buy them. That's awesome, right?
Oh yeah, my English teacher is kinda stupid. She let us off off 15 minutes earlier for recess because we scammed her. And she still hasn't realised it! IKR! She's so dumb! Don't deny!
CL
agreed too!:)
camp vigor 2011 @ west malaysia
Sunday, January 16, 2011
9:06 AM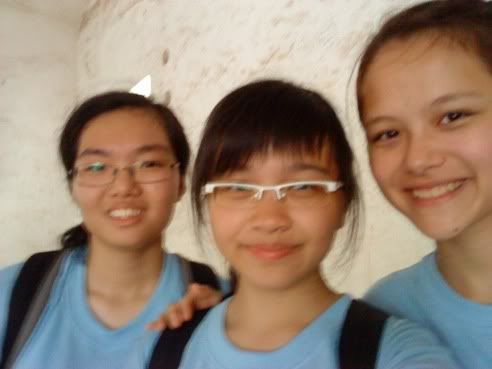 I'm back from camp, like finally. It has been really long, 4 days and 3 nights. But i really enjoyed it. The first day we did
CIP work
at a small town's jetty and it was disgustingly dirty. Not going to describe what it looked like, but if you imagine cow dung and disintegrated plastic bags and water bottles everywhere, then you'll know what I mean by that.
Corus Resort
is reasonable, i guess. Every night, i was freezing to death from the air-con. Anyway, i really enjoyed the bus rides where BUS 4 would chat and sing and get crazy woohoo. I like my group lots too,
GROUP 8 ARNEH!
On the second day, we went for our jungle survival training activity but because it was raining, we missed the trekking activity. PHEW. I shall tell you why i was relieved. The ground was really muddy and infested with many different kinds of insects. Once, when i was swatting off the flies, one of the instructors thought that i was volunteering to set up for the
Booby Trap
and called for me. GDI. Seriously, i wasn't paying any attention at all. So yeah, damn i didn't know what to do at all. Then since it was raining, we took shelter under a small place with 200 over students inside.
Cluster A and B
. And we did a
cheer competition
. Group 8 was selected as the better one and i really screamed my lungs out.
*laughs*
RAWR the next day it was raining in the morning. And since our resort was near the sea, it was like, really stormy. But then, the rain dissipated a little and we had to do the
water-rafting activity
. OKAY, here's the thing. I can't swim, so i get to sit in the middle. HAHAHA. Anyway, since i'm a girl guider, i get to be one of the 5 who had to learn how to tie the knots for building the raft. Easy-peasy. But the water confidence test was cool, even if i'm a non-swimmer. By the way, Group 8 was shouting our cheers and we got first, a smashing record of 10 minutes plus while other groups got like over 20 minutes.
WT
lost both of her shoes in the soft sand inside the water muahahahha. After that, we did
Hands-on Activity
, where we had to weave a basket. Mine looks pretty much like a barrel, but it's awesome and cute in it's own way too. :-) After that, we took the bus to proceed with the
High-rope activity
. YAY i did 3 stations! It was great. One with a shaky rope where you had to cross without anything to hold on to except your own belaying rope. One with the bridge where a joker didn't dare to cross. One low element which needs balancing. I was actually really scared when i was doing the high log thingy but in the end, i did it fast and i leaned back and fell fast so that i was like flying. :D Anyway, i was the last one to do the bridge thingy and I know i looked cool. YEAH YEAH YAY. Yesterday went to
Malacca
for the heritage trail. We visited the
A Famosa
and it was damn awesome. Anyway, i bought some souvenirs too, including a Spongbob keychain, a Patrick keychain, a Sago cookies box and a dunno what for my family. Anyway, yesterday i was so tired that i slept when i came home. Oh yeah, about the food, we had many different types. Breakfasts were in the hotel, buffet-type. I get to sit with
WT & ZH
almost everyday kehehe. They were in different groups from me. And
CL
would come too and chat with us.
Lunches/dinner
were at many various restaurants, or at the hotel again. However, i love the restaurants so much more! We can walk around to different groups to chat kehehe. However, there was one day when we had to eat packed lunch in the jungle. ):
Yesterday, when i was coming home from the camp, i got stalked by an Indian. Damn it was a nightmare man. I was so traumatised i was crying when i called my family to fetch me and my dad came down to find me standing in the rain.
Still, thank god i'm saved.
And i would like to say thanks to my room mates! And a lovely thank you to
YY, C, ZW and YN
for being the best companions i could ever get. :D Love ya guys.

A cheer that goes like this:
If i were
a vampire's son (a carpenter's son)
and if i were to marry,
i will marry a vampire's daughter (i will marry a carpenter's daughter)
more than anybody.
Cos' she can suck (Cos' she can screw)
and i can suck, (and i can screw)
we can suck together. (we can screw together)
In the middle of the night,
sucking one another. (screwing one another)

Yeah there are still other versions too. What about another one? Using the Jingle Bell tune.

Rambutan, Rambutan, (Durian, Durian)
Hanging on the tree.
Hairy one, no hair one, which one do you one? (Horny one, no horn one, which one do you one?)
I got the hairy one, (I got the horny one)
You got the no hair one. (You got the no horn one)
If you want my hairy one, (If you want my horny one)
come and kope my one.

Labels: camp, outings, photography
i'm a fool, and i believe you.
Tuesday, January 11, 2011
4:26 PM
hiatus/see ya soon
I'm going hiatus from tomorrow onwards to Saturday. Going overseas camp @ West Malaysia. Byeee. Miss me kk?
BTW, i got most of my facts wrong. I'm taking a 4 hours bus ride and there are 4 people to a room. Plus, i don't really like my group damn meh.
Long Live
Sunday, January 9, 2011
8:39 AM
OH THIS IS REALLY BAD.
Next Wednesday I'll be going for the
4D3N Secondary 3 Overseas Integrated Camp @ West Malaysia
. Which means I have another 2 more days to pack. Gawd. We will be going to
Port Dickson & some other places which I haven't heard of
. We will also be staying in a hotel and there will be 2 people to a room and most of all, your room mate is totally random.
Hope we can be friends(?)
& we will be split into different groups from the 11 different classes with about 15 people in a group. Hope it won't be weird or anything bad... I think we'll be going there by plane first and later, by bus. That's the problem.
I CAN'T TAKE LONG-DISTANCE BUS RIDES.
Because I have motion sickness GDI. I used to vomit when I was young last time in the car and my parents always thought that I was a nuisance. But since I'm older now, I can take bus rides better and rarely will I vomit. Either way, I'm still very worried because even if I don't vomit, I will still feel sick, sick to the core and I don't think I can do any activities on that day and I won't even have the appetite to eat for a whole day! Yeah that's what you get, when you have the same kind of sickness as me. My dad suggested getting motion sickness pills but he mentioned something about sleeping. I DON'T WANT TO BE SLEEPING BECAUSE IT WILL BE SO EMBARRASSING PLEASE. I don't know what to do now... Are there any kind of pills which won't cause drowsiness and ease my pain?
Anyway, had a good time laughing at some silly people saying that Zhou Jieming of Breakout is the 6th member of SHINee. Please luhs, get your Kpop facts right first, thank you.
I completed my homework, anyway. So tired and there will be more GG days to train our footdrills sigh. I feel like it's already a year when it has only been a week.
Sigh
Labels: camp, girl guides, random
high and voldy
Saturday, January 8, 2011
1:09 PM
Random things which i tweeted over this whole week:
- Guy: when i'm disfigured, i become more manly. Girl: so when i'm disfigured, i become more womanly?
- You filthy mudblood! Don't act high and voldy in front of me!
- Voldy won't text me, silly. He would have just send me a howler.
- My horoscope tells me to follow my hunches and listen to my imagination lmao.
- It also tells me to not make any promises i can't keep in july and august (?)!
- You can't live in this world without leaving a piece of you behind.
- It's more than just covalent or metallic bonds. It's covalent and metallic combined.
The
Harry Potter
-related stuffs are from the talks between me and
Cowy
. How great if there is really such a place called
Hogwarts
. ):
The last bonding thing is because, i simply miss 202 damn freaking much. I don't really hate my new class,
308
, or anything. It's just that, i feel like i'm entering an empty classroom every time. It just hurts to find that all the jokers and my friends are separated from me. I really don't feel anything or any attachment towards this class. The boys in my class make jokes and laugh, i don't. I can't find myself to eve laugh it out. It is perhaps, silly of me to be so loyal and involved with my previous class but i just can't help me. Seriously, there's nothing more to feel. It's great though, every morning, when we will assemble outside my guides room and the whole of 202 will talk there and bond.
I miss you guys.
Then the 40 minutes of recess where we will continue to meet up and chat... i love these periods. I'm looking forward to school because of these. I miss everything about 202. And most importantly, i miss the teachers and my friends. Ohhh, i know, it's weird of me to say this and i just gotta freaking accept the fact and everything but really, it's not easy. What can i do now? So i gotta
cherish the time
together with 202 everyday.
In 2010, I was the mad woman of 202.
Every moment with 202 is so precious to me now. And i know many people who have quieten down and are less happy without 202. But guys, as long as we can continue our morning and recess memories together, we definitely won't drift apart from each other. Ever.
Just came home from
CCA extravangaza
. So tired now because i had cca for three consecutive days straight. Plus i have so many homework when it's only like what, the first week?! Damn manz.
Labels: girl guides
As far as I'm concerned, i regret nothing.
Monday, January 3, 2011
8:11 AM
It's already 3rd of January.
Time flew past so fast that i could hardly breathe.
Tomorrow will be 4th of January.
I gotta go back to school and study everyday sigh. I really hate my school now. The timetable is distorted by my current principal. She's changing things
her way
. What's the problem wrong with her? ._.
Now i think everyone in my school hates her. Serves her right. GDI i still need to pack my bag but i really don't know what to bring or who i should ask. This really sucks, huh? In a new, totally unfamiliar class. Plus my mum ain't helping. I can't say anything, seriously.
*sigh*
I feel like banging my head on the wall. Maybe that will help, perhaps?
Since that's the case, i won't be that active online anymore. School will really take up a huge part of my time. I doubt i can find any other time to update other than Fridays and weekends.
Bye, my freedom. I'll miss you so
god-damn-it
much.
Labels: random
SHINee world
Sunday, January 2, 2011
8:46 AM
Jjong
apologising for his injuries (maybe) and the fans cheered for him and said that 'it's okay'.
Taemin
joined in the fan. Awww power of SHINee. This time,
Jonghyun, Key and Onew
cried at the Korea concert yesterday. Poor things. They must have been really tired already. SHINee HWAITING~
Bounce to you, bounce to you
Saturday, January 1, 2011
2:59 PM
Hello! It has been long since I do a proper update other than video or image spams, right? So here am I. It's the first day of the year.
January, 01, 2011
Really hope this year will be a good one. Firstly, i'd like to day thank you to all my awesome friends who have brought to me so much happiness and laughter! I love you guys! Next, thanks to my awesome cybermates! Hope 2011 will work well for everyone! Lastly, thank you too all my followers + Tumblr followers too. I may not be that active in a few weeks or so. School's starting real soon and I don't think staying on the com for top long is a good idea. Wish you all an endeavoring and fulfilling year!
Goals for 2011:
-Get good grades
-Make many great friends
-Be happy, always. :)
-PEACE and bliss
-202, forever~
Please please please. Oh god, just please, really.
Labels: random
Happy New Year!
7:48 AM
Hey dears happy new year thanks for everything love ya'll. So yesterday is
MBC Gayo Daejun
.~


Really miss SHINee~ *____*


OMGGGG KHUNTORIA /*faint*/


Labels: happy new year, SHINee, videos